April 29, 2019 - by Sarah Waldrip
About ten years ago, two men who had never met before had an unexpected conversation in a hotel lobby during a Supercomputing conference. Hussein Harake was debating with a colleague the possibility of creating a 3D torus supercomputer topology with InfiniBand, when Gilad Shainer approached the colleagues. That chance meeting inspired Hussein and Gilad to not only become friends, but also to work toward organizing the first conference of the HPC-AI Advisory Council, a global organization dedicated to connecting high-performance computing (HPC) to both current and potential users, software designers, hardware manufacturers and numerous other experts on the leading edge of the HPC frontier, in Lugano.
Harake is currently a system engineer at CSCS, and Shainer currently serves as Senior Vice President of Marketing at Mellanox Technologies, a high-end multi-national supplier of computer networking products and sponsor of the HPC-AI Advisory Council. During the HPCAIAC Swiss conference held this April, Deputy Director of the Swiss National Supercomputing Centre Michele De Lorenzi interviewed the two men, asking them about their decade-old chance meeting; the motivation behind the HPC Advisory Council's conception; how the annual Swiss conference has evolved to address changes in the industry; and what the future of Exascale computing may have in store for both the organization as well as the wider community of HPC professionals and researchers around the world.
De Lorenzi: Can you tell me the story of why you started this conference?
Harake: Back in 2008, Gilad and I met by luck in a hotel at a supercomputing conference. It happened when a colleague and I were discussing whether we could build a high performance network based on 3D torus topology using InfiniBand, which was just becoming one of the main HPC networks on the market. My colleague said "no." Gilad was passing behind us and heard the question. He said, "I'm Gilad from Mellanox, might I be allowed to answer this question?" And then he described how we really can build a 3D torus topology using InfiniBand. Based on that, we got the idea: 'It is difficult for people to understand these things; we can really try to bring these ideas together and teach people, or exchange knowledge with people, about how we can build it and how we can make that possible.'
Shainer: So that was the idea behind establishing the HPC Advisory Council organization in 2008, to bridge the gap between technology and knowledge and to bring more knowledge to more people, by helping with HPC outreach and providing education to more people around the globe.
Harake: We liked the idea of contributing to such events as the workshop, since even we ourselves find that we are missing out on some HPC knowledge and information. We also wanted to bring our people at CSCS to a higher level of knowledge where they could build better supercomputers. We are happy to share our knowledge and learning with others, and to learn from what others bring to this event. It just creates an excellent opportunity for collaboration and sharing between all the academic institutes. That is in fact a key component of the event.
De Lorenzi: What was the goal for you in doing such an event in Switzerland, and what view of Switzerland did you have at that time?
Shainer: In Europe, the HPCAIAC organization was looking for a strong HPC entity who cared about bringing more education to more people, and actually extending the community of companies or academics that can utilize HPC, in order to do things that can't be done without HPC. Hussein and I had a good collaboration from the start, and we have enjoyed working together ever since. There is willingness on both sides. And Switzerland, I think, is a great European central location, close to multiple countries. And then if you add in the Swiss coffee and chocolate and Lugano… it's kind of a no-brainer.
Harake: There's no border that should block the sharing of knowledge, science and technology. As much as we can collaborate and share, we do. I think that's the way to go in an environment like CSCS or ETH Zurich, where academic sharing is a key component of what we are doing.
De Lorenzi: How are you celebrating the ten-year milestone for the HPC-AI Advisory Council Swiss Conference?
Shainer: We planned an evening event in one of the best places in Lugano: Monte Brè. That's one of the ways we are going to celebrate the 10 years. We picked this place, which sits at the top of the mountain and has an amazing view of the Gulf of Lugano. But really, we never find the time to celebrate, because there's always the next step to think about. We'll do the 11th and the 12th conference, it just doesn't stop here. So you can have a nice dinner and enjoy the 10-year mark, but from my perspective, that's not a major milestone. We want much more.
De Lorenzi: In what ways have the needs of the users and the user community you are serving changed over time? How has the technology addressing these needs changed, and how have you changed the contents of the conference over the years to adapt to the new needs?
Harake: When we started 10 years ago, the event in Lugano focused more on high-speed networks, and on the way to manage supercomputers' deployments and build and design HPC platforms. Over time, we expanded the topics covered to include computing architectures, storage technologies, applications and co-design, the use of deep learning, and more. Every year we add more things to the agenda, covering a lot of topics and different technologies, different applications, going from research to sys-admin to application support, to design and system architecture—all of this has been included. Of course, we keep looking out for the next big thing we can offer our community.
Shainer: Over time, technology changes. There are changes in compute elements or networking elements or storage elements or software frameworks; and then you start looking at how to bring deep learning into HPC, and so forth. The technologies are being enhanced or changed over the years, but the one goal of getting the maximum performance and the never-ending demand for high-performance is always there. And what we're doing here is looking at three different areas in the high-performance computing world: One area is the technology itself, what's new and how it's being evolved, and that's why we bring in vendors to discuss that, or other entities who develop the technology; we also have the framework people that actually create the bridge between applications and a technology, and how their software is being evolved over time; and then we have the users who build those infrastructures and run applications, and whose needs change over time. So if you have those three elements, and they come year after year and talk about evolving the technology, evolving the software interface, evolving applications, you keep yourself up-to-date—and you can even conduct discussions on technology before it hits the market, so people can start thinking about what's coming next.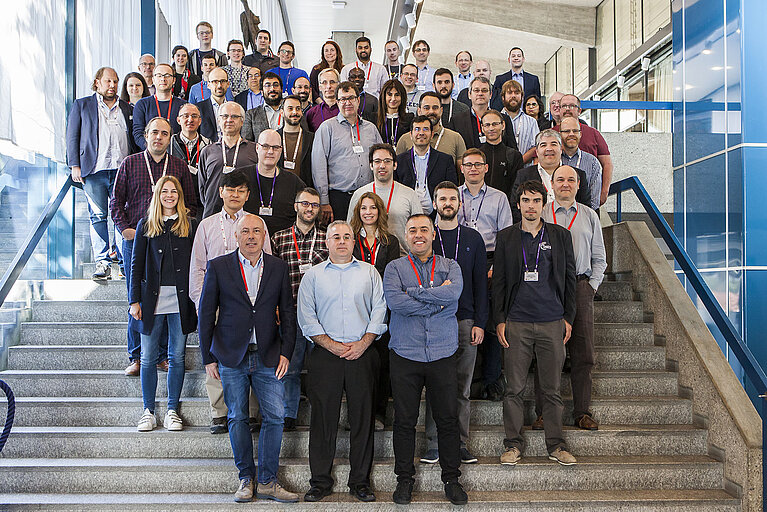 The participants of the HPC-AI Advisory Council Swiss Conference 2019. (Photo: CSCS)
De Lorenzi: Last year you started a corporation for a joint conference with the HPCXXL User group. Why did you start this, and why did you decide to extend this year's conference an extra day for HPCXXL guests?
Shainer: HPCXXL is a community of supercomputing centers that meet twice a year, once in in the US and once in Europe, and we thought that it would be beneficial for both sides to combine the effort, and have the supercomputing centers that are part of XXL come together to present as part of the HPC Advisory Council Swiss conference. I think both of us give and get from that combination. We have added one more day to this year's conference, dedicated to the specific private meetings of the HPCXXL group. We have gained a lot, as now there are more supercomputing centers that can participate and present different views. And then, those centers also gain not only by hearing more people talk about their needs, but also by learning about new technology and other things being developed in other places.
De Lorenzi: What will be the biggest challenges in HPC in the next years? How will the conference develop over the next 10 years?
Shainer: It's very hard to say where we are going to be in 10 years, because things change and change very fast. In the next few years, I think we are going to see the first Exascale system being built. So there is going to be a lot of focus around high-performance computing and AI, around building those large infrastructures that enable us to do things that we cannot do today. I believe there is going to be much more importance given to HPC over the next several years, and our mission is to make sure that everyone is working together, driving the leading edge of technology in its usage and building the next generation. That's what is going to keep us busy during the next 10 years and hopefully beyond that.
Harake: I think it will be important to remove the gap between HPC and the Cloud and try to accommodate all the users coming from these two communities, in an HPC machine like ours. So from a user point-of-view, that could be at least a short mission for us, trying to build a system that allows us to accommodate these two communities.
De Lorenzi: How do you view the relationship between the HPC-AI Advisory Council and CSCS?
Shainer: CSCS is a leading supercomputing centre, not just in Europe, but worldwide. We're very fortunate to be able to collaborate with CSCS to facilitate the Swiss conferences year after year, and together, to be building the next generation of HPC professionals and researchers. I think there are more things we can be doing together in the future, and I'm looking forward to continue working with CSCS for years to come.
Harake: I would like to thank the HPC Advisory for everything they've done so far. It's really a great organization, a not-for-profit organization that has no business side. They are not biased for any technology, and they are happy to hear from everybody. So please join us at a future HPCAIAC and CSCS Swiss conference, and tell us how good you are in your technology and how good you are at optimizing and running applications!