September 30, 2016
CSCS strongly supports training and continuing education activities, which are undertaken in conjunction with work or which help enhance employability. Angela Detjen, communications officer at CSCS, took part in a Study Tour organized by Swissnex San Francisco to gain more scientific knowledge and awareness, to embrace creativity and gather new ideas, skills and tools. Here she tells us about her experience:
"In October last year I had the chance to join a study trip to San Francisco during the Bay Area Science Festival. I was lucky enough to be among the eight Swiss-based science communicators who took part to the study tour organized and led by Swissnex San Francisco.
First things first, we met for dinner at Starbelly where we learnt all the details of the interactive, tailored study tour to the Bay Area on the topic of science communication. After the dinner we attended two back-to-back events at the Castro Theatre, BAHFest (Festival of Bad ad Hoc Hypotheses) and DNewsLive.
The next day, we met at the headquarters of Swissnex San Francisco for our first full day of meeting and visits, including a sit-down with the Director of the Bay Area Science Festival, Kishore Hari. Next, Francesco Muzzi, art director of Wired, presented new ways to visualize information and data. The last presentation of the morning came from Sandra Hausmann, a Swissnex resident in charge of business development for the open-access science journal family, Frontiers. In the afternoon we had the chance to do a behind-the-scenes tour of the California Academy of Sciences, one of the largest and most innovative natural history museums in the world. We watched the Academy's new planetarium show "Habitat Earth" and we received a unique insight into their latest explorations in science communication.
To really "get" the Bay Area's love of the nerdy, we participated in Science Hack Day – a full weekend to play with science, just because. Science Hack Day is a 48-hour-all-night event where anyone excited about making weird, silly or serious things with science comes together in the same physical space to see what they can prototype in such a short time. The event took place at the headquarters of GitHub, one of Silicon Valley's most successful software companies. Built in a 108-year-old former dried fruit storage facility, it features a reception area that is a recreation of the Oval Office (yes, the one at the White House), an indoor picnic area, a full bar, ping pong and pool tables, a shipping container, and all sorts of other funky furniture.
After a weekend of hacking, it was time to explore more. Next stops: Exploratorium, Autodesk Gallery and Story Collider. We did a tour of the Exploratorium, a world-renowned learning laboratory and science museum full of playful, interactive, and hands-on exhibits that ignite wonder and curiosity. We also visited the Autodesk Gallery, a gallery that brings together stories of exceptional design and engineering from across the globe. To conclude the day, we attended the event called "Story Collider", an event and podcast series that focuses on personal stories of the ways science intersects with people's lives.
The next day Kristen Bole, assistant director of Public Affairs at the University of California, showed us inside some of UCSF's amazing labs, and shared thoughts about the role of press officers and media relations in the changing news landscape. After that we took a "Discovery Street Tour" showing that some of the world's most influential inventions were dreamed up by San Franciscan tinkerers. For example, did you know that fortune cookies were not invented in China but in San Francisco? After the tour we did a workshop with David Harris on the principles and techniques of writing short, with social media in mind. Last but not least we participated in the "Nerd Nite SF on Alcatraz". We took the ferry to Alcatraz and enjoyed the Alcatraz audio tour, scientific talks, tours and special activities.
On Wednesday we went to UC Berkley to attend the "Visual Storytelling and iPhone Video" workshop. Thanks to BBC tech correspondent Richard Taylor we learnt how to shoot, edit and produce quality videos with our iPhone. Back in downtown we visited the Wikimedia Foundation, which operates Wikipedia, a nonprofit charitable organization dedicated to encouraging the growth, development, and distribution of free, multilingual, educational content. To conclude the week, we joined Swissnex SF in their event "Biorobots: Dissected". This event was part of a series aimed at positioning Switzerland as a major innovator in robotics. Along with special guests from Stanford University, NASA, and UC Berkley, the EPFL's Biorobotics team shared the secrets of the Lab's fast running cheetah robot, a salamander bot that navigates both land and water, and modular machines designed to be the building blocks for furniture that moves and evolves.
It was a great week and I came back to CSCS with enthusiasm, new skills, new ideas and tools. I would like to thank Michele De Lorenzi, the management of CSCS and Swissnex for the great opportunity."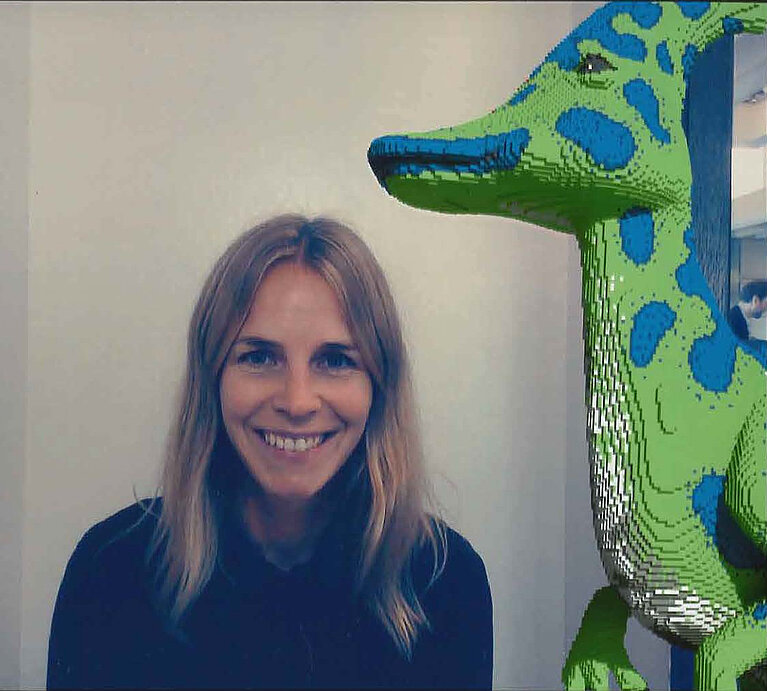 Angela Detjen, communications officer at CSCS, at the Autodesk Gallery in San Francisco.