In order to tackle today's scientific challenges researchers from around the world collaborate and pool their knowledge and resources. CSCS participates in a number of European and worldwide collaborations with the aim of furthering the knowledge and competence of the staff, exchange knowledge and experience with peers and ultimately provide excellent support and service to the users. To this end, CSCS engages in projects in a variety of topics such as software development, development of a European compute resource infrastructure and studies on energy efficiency in computer centres.
ADAC - Accelerated Data Analytics and Computing
Accelerated Data Analytics and Computing (ADAC) Institute is a collaboration between ETH Zurich, Oak Ridge National Laboratory (ORNL), and Tokyo Institute of Technology (TITech). All three institutions deploy supercomputers with hybrid accelerated compute nodes – Titan at ORNL, Tsubame at TITech and Piz Daint at ETH Zurich / CSCS. The Institute focuses on three topics: (1) sharing best practices in operating accelerated supercomputers, including the development of system software and diagnostic tools; (2) joint development of testbeds for newly emerging technologies; and (3) collaborative development of domain specific libraries for applications.
For more information: ADAC website
CHiPP/WLCG Worldwide LHC Computing Grid
CSCS operates a Tier-2 center for the Worldwide LHC Computing Grid (WLCG) on behalf of the Swiss Institute of Particle Physics (CHiPP). It is the biggest Tier-2 center in Switzerland. Tier-3 centers are operated by PSI, the University of Bern and the University of Geneva. Switzerland as a member state of CERN contributes to the distributed data storage and analysis infrastructure for the users of the ATLAS, CMS and LHCb experiments at the Large Hadron Collider - the largest scientific instrument on the planet.
Contact person: Miguel Gila, miguel.gila@cscs.ch
ESiWACE2 - Centre of Excellence in Simulation of Weather and Climate in Europe
The path towards exascale computing holds enormous challenges for the community of weather and climate modelling regarding portability, scalability and data management that can hardly be faced by individual institutes. ESiWACE2 will therefore link, organise and enhance Europe's excellence in weather and climate modelling to (1) enable leading European weather and climate models to leverage the performance of pre-exascale systems with regard to both compute and data capacity as soon as possible and (2) prepare the weather and climate community to be able to make use of exascale systems when they become available. ESiWACE2 will develop HPC benchmarks, increase flexibility to use heterogeneous hardware and co-design and provide targeted education and training for one of the most challenging applications to shape the future of HPC in Europe.
Contact person: William Sawyer, william.sawyer@cscs.ch
For more information please visit ESiWACE website.
hpc-ch - The Swiss Service Provider Community
CSCS is one of the promoter of hpc-ch, the Swiss Service Provider Community. The goal of hpc-ch is to support and foster the knowledge exchange between providers of HPC systems at Swiss universities. 11 organizations are already member of hpc-ch and 3 joined as guest.
Contact person: Michele De Lorenzi, michele.delorenzi@cscs.ch
For more information please visit hpc-ch website.
Human Brain Project
The Human Brain Project is part of the FET Flagship Programme, an initiative launched by the European Commission as part of its Future and Emerging Technologies (FET) initiative. The goal is to encourage visionary, "mission-oriented" research with the potential to deliver breakthroughs in information technology with major benefits for European society and industry. The HBP in particular will make fundamental contributions to neuroscience, to medicine and to future computing technology, rising the challenge of understanding the human brain.
Contact person: Colin McMurtrie, colin.mcmurtrie@cscs.ch
For more information please visit the Human Brain Project website.
Interactive Computing E-Infrastructure for the Human Brain Project (ICEI)
Five leading European supercomputing centres are committed to develop, within their respective national programs and service portfolios, a set of services that will be federated across a consortium, called Fenix, which aims at providing scalable compute and data services in a federated manner.
The neuroscience community is of particular interest in this context and the HBP represents a prioritized driver for the Fenix infrastructure design and implementation. The Interactive Computing E-Infrastructure for the HBP (ICEI) project will realize key elements of this Fenix infrastructure that are targeted to meet the needs of the neuroscience community.
Contact person: Colin McMurtrie, colin.mcmurtrie@cscs.ch
For more information please visit the Fenix website
MAESTRO - Middleware for memory and data-awareness in workflows
The MAESTRO project supported by a three-year grant from the European Commission's H2020 Future Enabling Technologies for HPC (FETHPC) programme, was created to address the ubiquitous problems of data movement in data-intensive applications and workflows. The Maestro consortium consists of 7 expert partners, each bringing specialist knowledge and expertise to the technical challenge.
Contact person : Maxime Martinasso, maxime.martinasso@cscs.ch
For more information please visit the MAESTRO website
MaX - Materials at eXascale
Materials at eXascale (MaX) is one of the eight "European Centres of Excellence for HPC applications" supported by the EU under its H2020 e-INFRA-2015 call. MaX was created to support developers and end users of advanced applications for materials simulations, design and discovery, and works at the frontiers of the current and future High Performance Computing (HPC) technologies. ETH Zurich represented by CSCS is the legal partner of the MaX consortium.
Contact person: Anton Kozhevnikov, kozhevnikov@cscs.ch
For more information please visit the MaX website.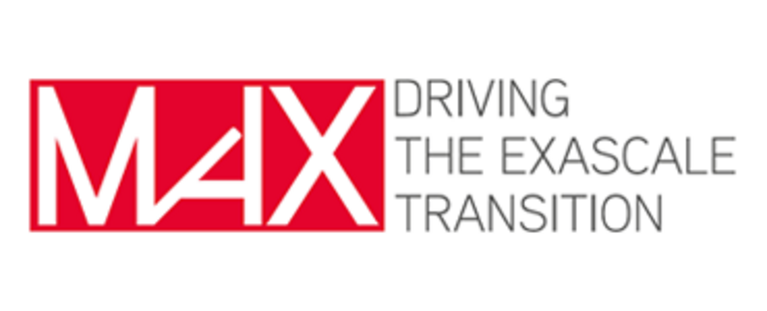 NERSC
In January 2008 CSCS institutionalized its staff exchange program with the US American supercomputing centre NERSC at Lawrence Berkeley National Laboratory. The aim of this exchange program was to build on the similarities of both centres to share and further the scientific and technical know-how of both institutions. Berkeley Lab Associate Director for Computing Sciences Horst Simon is a member of the CSCS advisory board. Both centers share a common technological focus, having selected Cray XT supercomputers as their primary systems after thorough reviews of various systems. The two sites regularly interact and exchange on systems, applications and facilities.
For more information please visit NERSC website.
PASC - Swiss Platform for Advanced Scientific Computing
The Swiss Platform for Advanced Scientific Computing (PASC) overarching goal is to position Swiss computational sciences in the emerging exascale-era and aims to provide the Swiss scientific community with the tools to make the best use of the new generations of supercomputing machines to solve key problems for science and society. It addresses important scientific research issues in high-performance computing and computational science in different domain sciences through interdisciplinary collaborations between domain scientists, computational scientists, software developers, computing centres and hardware developers.
PASC is a joint effort of all Swiss universities, coordinated by the CSCS and the Università della Svizzera italiana and will create a long-term research-driven cooperation network in computational science between Swiss Universities.
Contact person: Joost VandeVondele, joost.vandevondele@cscs.ch
For more information please visit PASC website.
PLAN-E - Platform of National eScience/Data Research Centers in Europe
PLAN-E is a new Platform of National eScience/Data Research Centers in Europe. The Platform unites the efforts of escience and data research groups across Europe in order to strengthen the European position in the escience and data research domain.
Contact person: Michele De Lorenzi, michele.delorenzi@cscs.ch
For more information please visit PLAN-E website.
PRACE - Partnership for Advance Computing in Europe
PRACE, the Partnership for Advanced Computing in Europe, aims to create a pan-European high performance computing (HPC) service and enable high impact scientific discovery and engineering research and development across all disciplines to enhance European competitiveness for the benefit of society. PRACE seeks to realize this mission by offering world class computing and data management resources and services through a peer review process. PRACE also seeks to strengthen the European users of HPC in industry through various initiatives. PRACE has a strong interest in improving energy efficiency of computing systems and reducing their environmental impact.
ETH Zurich, represented by CSCS, with its supercomputer "Piz Daint" is a Hosting Member of PRACE international and participates in all PRACE projects.
Contact person: Maria Grazia Giuffreda, giuffreda@cscs.ch
For more information please visit PRACE website
Exa2Green
Exa2Green was a 3-year research project co-funded under the EU 7th Framework Program "FET Proactive Initiative: Minimising Energy Consumption of Computing to the Limit". FET (Future and Emerging Technologies) aimed to go beyond the conventional boundaries of ICT and ventures into uncharted areas, often inspired by and in close collaboration with other scientific disciplines.
Hybrid Multicore Consortium
The consortium aimed at exploring hybrid multicore architectures as a significant, yet unrealized promise for delivering high-end production computing capabilities for the most demanding science applications.
HP2C - High Performance and High-Productivity Computing
The HP2C platform aimed at developing applications to run at scale and make efficient use of the next generation of supercomputers. The platform consisted of domain science projects that were lead by research groups at Swiss universities and Institutes of the ETH Domain, and supported by a core group of scientific computing experts in the Lugano area. HP2C was jointly operated by CSCS and the Institute for Computational Sciences of the University of Lugano (USI). Project teams engaged in high-risk and high-impact application development for HPC systems at scale.
NextMuSE
The objective of NextMuSE was to initiate a paradigm shift in the technology of Computational Fluid Dynamics (CFD) and Computational Multi-Mechanics (CMM) simulation software, which is used to model physical processes in research development and design across a range of industries. NextMuSE relies on a mesh-free method, Smoothed Particle Hydrodynamics (SPH), which is fundamentally different from conventional finite element or volume techniques. SPH offers the possibility of a novel, immersive, adaptive framework for user interaction, and has the potential for integrated multi-mechanics modelling in applications where traditional methods fail.